What if a mad scientist turned his sights towards coming up with a formula for big wins? Dr. Winmore is here to help you score some insane wins in this fantastic slot game at Everygame Casino.
Beware - what you are going to find inside our mad scientist's lab is completely different from all the other slots you've played.
At first glance, Dr. Winmore is a fairly standard slot, with a classic 5-reel format. Now this is where things get quite interesting inside this unusual lab. Wins are paid out when four or more symbols line up adjacent to each other, either horizontally or vertically. Our mad scientist won't pay out if the symbols line up diagonally, however.
But how does this crazy experiment work? The Dr. Winmore slot has a very unique cascading wins feature. The symbols will line up on the reels as usual. Once you hit a winning combination following the conditions listed above, the symbols will disappear from the grid. The remaining symbols will drop into the empty spaces, while new ones will cascade into the game from the top. If you hit another winning combination, the cascade will continue - until there are no winning combinations left. Whenever you hit a winning combination, the prize multiplier goes up by 1x. From the fifth win onwards, the multiplier will remain at 6x. Once the cascading wins stop, the multiplier resets to 1x.
The Dr. Winmore game is available at Everygame Casino in our Mobile Casino or on Download and Instant Play.
Players who enjoy the Dr. Winmore slot game recommend: Pulsar, Magic Mushroom and Cubee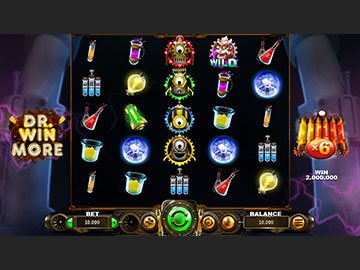 Find your winning formula in Dr. Winmore slot
Cascading wins feature
prize multiplier goes up with every winning round
special robots symbols
Dr. Winmore's assistants, the robots, act as a special symbol. If they appear on a reel, they will remain there while the winning combinations keep going. Once there are no winning combinations left, the robot will then clear out the other symbols in specific patterns. The robots will either: clear a column, clear a row, clear a column and a row or clear the adjacent symbols. This cleaning service will naturally free up space on the reels like any regular winning round would, so you can keep experimenting and winning. But that's not all. Once the robot's cleaning job is over, the multiplier will still go up - talk about a helpful assistant!
The steampunky Dr. Winmore is ready to help you as well. As the inventor of this winning formula, the doctor will act as the wild, and will substitute for any symbol other than the robot. If he lands on the right spot, the mad scientist will fill out a winning combination for you.
Now that you already know what to expect from this mad scientist's lab, are you ready to start the experiment? Well, then it's time to put on your lab coat and come to Everygame' crazy laboratory. Do you have what it takes to figure out the formula to score some big wins?